Fire Danger!
Anyone who has experienced winter in the northern forest knows how welcome springtime can be. The change to mild weather happens almost reluctantly, and snow flurries can occur after the first thunderstorm, but spring is still spring. The air warms. The snow melts. The soil thaws and begins to warm. The water left by the snow dries up. Trees bud. The grass turns green. The glories of a northern summer begin to assert themselves. Spring is a most welcome time in the north woods.
Spring is also a dangerous time in the north woods. Early spring proves especially bad. The grass exposed by melting snow stays brown and dead at first. The deciduous trees remain bare. Last year's dried up leaves litter the forest floor. Everything is dry, and few things in nature are more flammable than dried out vegetation. As a result, early spring is wildfire season in the north central United States. The forest, home for tiny birds and mighty bears, becomes a disaster waiting to happen. Not only are trees and animals at risk, but homes, towns, and human lives are also in danger.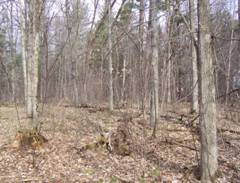 Naturally, those charged with protecting the forest go on high alert. Road signs warn the public of fire danger. Trucks follow trains down the tracks, watching for the results of stray sparks. Sometimes loggers are asked to shut down their hot equipment. Local governments enforce bans against outdoor fires. Observers climb hundred foot ladders to the little houses atop fire towers. Fire trucks towing crawler tractors leave their garages and park at strategic points. Airplanes patrol the wilderness. Radios, long empty of communication, hiss to life as rangers and dispatchers coordinate their forces. Everyone stands ready to help ward off a deadly enemy.
The human spirit also faces seasons of danger. While temptation and weakness may always be part of life, there are times when several risk factors combine to make spiritual failure more likely. The factors aren't always as predictable as a brown, dry forest, but with thought, we can identify them. Frustration, weariness, anger, desire for sensual pleasure, desire for money, desire for goods we can't afford, friends who take issue with our consciences, teachers who challenge our faith, heartache, and loss, are all factors that can leave us vulnerable to temptation.
Like foresters who can't control the circumstances that increase fire danger, we can't always control the circumstances that test our Christian loyalty. Yet, we must deal with the factors that tend to draw us astray. Sometimes we can avoid them. Sometimes we can recognize their role and put forth extra prayer and effort to overcome the resulting temptations. Whether in nature, or in the spiritual life, danger can only be overcome through vigilance.
Be sober, be vigilant; because your adversary the devil, as a roaring lion, walketh about, seeking whom he may devour: Whom resist stedfast in the faith, knowing that the same afflictions are accomplished in your brethren that are in the world. (1 Peter 5:8-9)
Lest Satan should get an advantage of us: for we are not ignorant of his devices. (2 Corinthians 2:11)
This work is in the pubic domain and may be copied and distributed freely.

How to Have a Relationship with God
Home Bible Studies Easy English Essays Grown-Up Bible Stories Multimedia Stories from the Book Itself
About this Site Copyright Release Links Contact: mail@welcomevalley.com